You can enjoy the ultimate night of opera on Sydney Harbour, or enjoy a world class concert or exhibition with the leaders in small group luxury travel Bill Peach Journeys. As renowned Australian short break specialists, Bill Peach Journeys offers you a fully-inclusive, seamlessly designed travel experience. We've designed the perfect getaway for couples and Solo Travellers, wanting a little more luxury and time to explore.
One guest reveals her experience as a solo traveller on one of our popular opera sojourns.

Luxury Short break specialists – looked after every step of the way
Swept away in movie-star style, I was greeted at the airport with my name on a sign, escorted to a car with dark-tinted windows and driven to my elegant city hotel. It started how it went on: special treatment every step of the way, with everything taken care of. After settling in to my generous room, I met up with others on the tour for our welcome dinner, admiring Sydney's magnificent city skyline.
Enjoying delicious fare, I had easy conversations with several women who were travelling solo as they're widowed or had husbands who didn't want to travel. There were also couples who had joined up because they like to be looked after well and appreciate not having to bother with details.
Whilst Bill Peach Journeys are renowned for their outback air tours they also specialise in short break regional tours in Australia & New Zealand, like the one I was on. These are based around a special event, usually a concert or a visiting international exhibition, and the itinerary is woven around that with high-end accommodation, meals and all the fine points travel entails.
A short break might be for the Melbourne Cup, Australian Wildflowers or the Australian Open Tennis. I'm in town for what is widely regarded as Sydney's best night out and "the ultimate Sydney experience" – Handa Opera under the stars.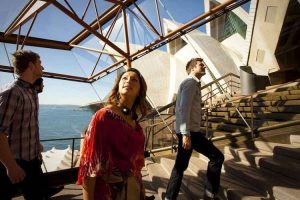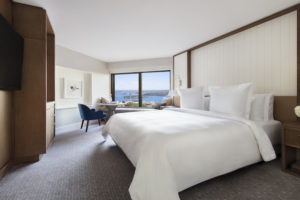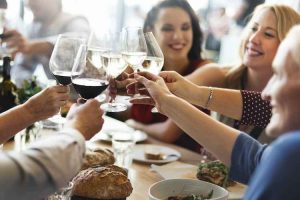 A Sparkling Evening Replete with Chandeliers & Fireworks
Every year, Sydney hosts an outdoor Handa Opera production, this year it's Puccini's La Boheme. On arrival we have a wonderful French inspired meal with matching wines as the sun sets over Sydney's spectacular skyline, a magnificent backdrop as dusk falls. All just metres from the magical setting of Sydney Harbour's Mrs Macquarie's Point, against the iconic backdrop of the Sydney Opera House and Sydney Harbour Bridge.
As it begins to get dark we are taken to our A grade seats and watch as the drama of La Boheme unfolds. This Opera just opens your soul to emotions stirred by Puccini's passionate music. As the six friends bare their hearts in a Parisian winter, we all fall in love, flare with ache and loss, right alongside them. I turn to look at some of my travelling companions and see quite a number in tears.
Once the clapping had died down, we made our way out of the arena to our waiting coach and passed queues of people waiting for taxis or trekking back to far-flung cars.
Every year there is a different opera but the standard is high and it will be without question, as stunning and as much fun as this production. You can expect rousing, high-energy operatic performances, fireworks, a live orchestra and spectacularly dramatic lighting.
2021 Performance Details Announced 
Bill Peach Journeys is pleased to announce that the 2021 Handa Opera on Sydney Harbour will be a spectacular production of Verdi's La Traviata. The title La Traviata translates to 'The Woman Who Goes Astray' and the performance takes us on a journey of flying melodies, rousing drinking songs and heartbreaking duets. Set on a floating mirrored stage with a breathtaking 9 metre high chandelier made up of 10,000 Swarovski crystals and a fireworks display, this performance is set to be a visual spectacle not to be missed. Find out more details HERE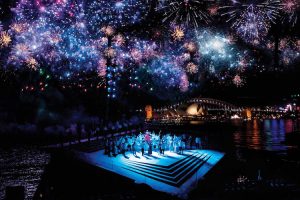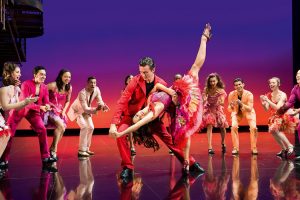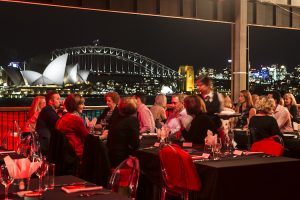 Interesting touring throughout
The great thing about these small group luxury tours is the variety of day trips that occur. For our tour the group travelled north of Sydney to Hawkesbury River to cruise around its fascinating waterways. On another day we went south along the Grand Pacific Drive and weaved our way through one of the one of the oldest national parks in the world and then over the Sea Cliff Bridge, an engineering marvel. After a local lunch, we visited the charming coastal towns of Coledale, Austinmer and Thirroul, places I hadn't visited since I was a child.  On other tours it may be a couple of nights stay in the Blue Mountains or a visit to a historic home – the programmes are so interesting and so varied.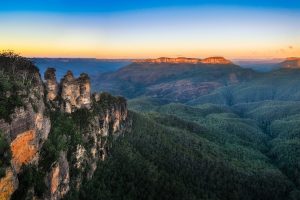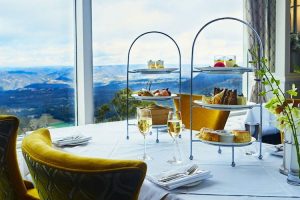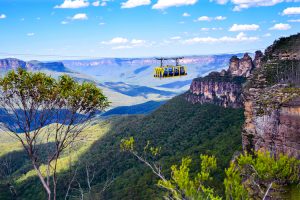 All inclusive
The wonderful thing about travelling with Bill Peach Journeys is that there is nothing to worry about once the journey begins. Absolutely everything is taken care of. On this journey we had gourmet meals for breakfast, lunch and dinner. We dined in Sydney's top restaurant Quay – something I had wanted to do for some time. We also had a beautiful seafood lunch on the cliffs at Scarborough and on the cruise of the Hawkesbury a buffet lunch fit for a king.
Our accommodation was at the Sheraton Grand Sydney Hyde Park. All of our rooms faced the park and it was just so lovely to wander around the shops and parklands so close to the hotel.
At the end of the tour I exchanged contacts with several of my fellow travellers. They were an interesting well educated crew; seasoned, motivated travellers who enjoy the finer things in life. I was jealous, hearing their plans to join another Short Break but grateful that I had such a wonderful opportunity to see first hand why Bill Peach Journeys is the leader in small group luxury travel.
To find out more about Bill Peach Journeys Short Break Collection CLICK HERE