Explore the Far North West in true Luxury
One of Australia's last true frontiers, the Kimberley's vast landscape provides spectacular beauty and horizons that appear to go on forever. Covering an area of nearly half a million square kilometres, the Kimberley is twice as large as Victoria and three times the size of England. With a rugged coastline facing the Indian Ocean to the west, the Timor Sea to the north and Great Sandy Desert in the South. A Private Air Tour is the perfect way to explore the region efficiently, allowing you more time to immerse yourself in the wilderness and less time spent travelling.
Taking Australians to Australia
Only from the air can the layered and vast contrasts of this region be truly appreciated. Our small group journeys utilize smaller private aircrafts, which allows for stunning low flightseeing.
Highlights in the Kimberley include the spectacular Cockburn Ranges, with its majestic orange cliffs running the whole way around the range and the Cambridge Gulf, used by ships to access the Port of Wyndham. The region is defined by rugged ranges, dramatic gorges, semi arid savanna and a largely isolated coastline and is a sight to behold.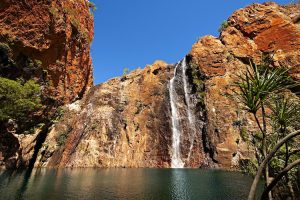 El Questro – the heart of the Kimberley
If there is one area that encompasses almost everything that the Kimberley has to offer, it's El Questro. Boasting outstanding natural diversity from deep gorges, majestic mountains to rainforests and cascading waterfalls, El Questro's untamed natural beauty is spread out across the property's 700,000 acres.
On a Bill Peach small group journey, our private aircraft lands directly at El Questro Station. You will be whisked away on 4WD's to our awaiting luxurious riverside accommodation. Relax and enjoy a drink while taking in the changing colours of a West Australian sunset, which paints not just the sky but the entire horizon in hues of the rainbow.
A cruise on Chamberlain Gorge is a must. Only accessible by boat, this 3 km fresh waterhole is bound by diverse flora and fauna and belittled by a towering escarpment. Keep your eyes peeled for the resident rock wallabies, Johnston crocodiles and archer fish, who shoot water at their insect prey to capture them.
There will be plenty of time to relax, unwind and explore this breathtaking property at your own pace.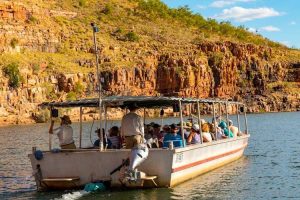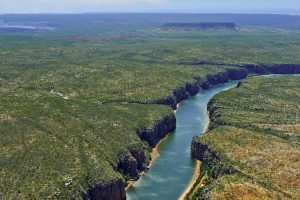 Berkeley River Lodge – Australia's most remote mainland luxury lodge experience
When the Kimberley Coast's sparkling waters come into view, you will instantly see why the Berkeley River region is one of Australia's true gems. Only accessible by air, a privileged few will ever have the opportunity to see its breathtaking landscapes. Set between the Timor Sea and Berkeley River, this luxury lodge is an ultimate Kimberley experience. A stay at Berkley River Lodge allows you to leave modern life far behind, as you relax into the rhythms of nature in your luxurious villa that floats atop of the coastal sand dunes.
Absorb the peace and tranquillity of this remote wilderness region on a river cruise along the Berkeley River. Discover the rugged cliffs, stunning waterfalls and secluded waterholes as your skipper shows you all the natural treasures this river system has to offer.
No matter your activity level, our guests will experience everything this ancient and remote region has to offer.
You can find out more about our Kimberley Adventure Private Air Tour here